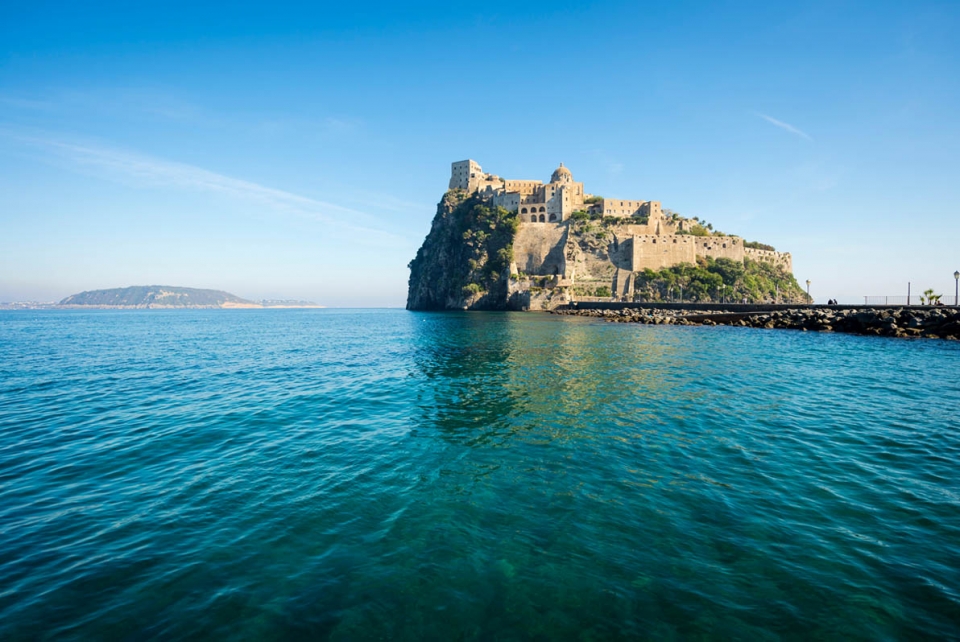 The small, but mighty volcanic island in the Gulf of Naples
One of Italy's best-kept secrets is Ischia Island, a small volcanic island in the Gulf of Naples. Ischia has the striking rugged coastlines of Amalfi and the sparkling blue waters of its more famous neighbor Capri, and none of their crowds. Ischia is also more low-key and budget-friendly than Capri, and with more authenticity (while it's not well-known among international travelers, it's a popular vacation spot for local Italians).
Ischia Island: How To Get There
Ischia Island is a two-hour ferry ride from Naples, Italy's southern metropolis. Tickets can be purchased online or at any one of the kiosks along Molo Beverello, Naples' main ferry port terminal. Three companies operate ferries between Naples and Ischia Island. Medmar runs six ferries a day, Caremar runs seven ferries a day, and Alilaura runs 10 ferries a day. It's best to book your ticket in advance. That way, you can spend less time waiting in line and more time enjoying a slice of Naples' famous margarita pizza before your trip to Ischia. Ferries to Ischia can also be booked from the nearby town of Sorrento.
Things to Do in Ischia
Ischia may be smaller than its neighbor Capri, but don't be alarmed. There is still plenty to do on this beautiful volcanic island.
Thermal Baths: thanks to the island's dormant volcano, Ischia is rich in spas and wellness centers with curative thermal baths. You can dip in one of the dozen pools at Negombo Thermal Gardens, or relax in one of 20 at Giardini Poisedon before enjoying a nice Mediterranean dinner at the beachside restaurant. Both offer spectacular views of the island's clear, turquoise waters and pristine white beaches. Ischia's volcanic hot springs are excellent for alleviating sore joints and muscles, as well as rheumatism.
Beaches: It wouldn't be a trip to southern Italy without a day or three at the beach. Ischia has an advantage over the more popular beaches at Capri and Amalfi in that its beaches are not only less crowded but less rocky too. On Ischia, you can easily spread out on the white sand along Spiaggia dei Maronti, Sant'Angelo, or Citara, and catch some Mediterranean rays with a tall glass of limoncello.
Art and History: Ischia was an early colony of Magna Graecia, the collection of ancient Greek settlements in Italy, making it one of the country's oldest developed areas. Like most of the country, Ischia has its fair share of churches, castles, and museums. The ones most worth a visit are the Castello Aragonese, a formidable yet almost magical-looking, 15th-century castle-fortress perched atop a craggy peak overlooking the ocean. You can also visit the Archeological Museum at Pithecusae, or the Chiesa di Santa Maria del Soccorso, a lovely 14th-century chapel hugging a seaside cliff.
Explore the Island: There is of course more to Ischia Island than just beaches and resort towns. Like the rest of the Gulf of Naples, Ischia Island is blessed with a rich and varied, fertile climate. You can hike up Monte Epomeo, the island's tallest peak, or stroll through the lush Giardini Ravino. There are also vineyards, lemon groves, volcanic rocks, and forests of chestnut trees that you can discover on walks around the island.
Shopping: As stated before, Ischia is more budget-friendly and authentic than Capri and Amalfi. Both are well known for their bounties of luxury boutiques and designer brands, as well as their high-priced hotels and expensive restaurants. In Ischia, not only are the hotels and restaurants cheaper, but you will find more local, artisanal shops. Many markets in Ischia also sell products grown and made on the island itself, like facial creams, fragrances, and of course, bottles of wine and limoncello.
What to Eat on Ischia
Speaking of wine and limoncello, what can you eat during your stay on Ischia Island?
It goes without saying that as an island in Italy's Gulf of Naples, restaurants along the island's coastline serve some of the best seafood pasta dishes, like spaghetti alle vongole or linguine with prawns. You can also find fresh catches of the day, like swordfish, king mackerel, and octopus, tossed into salads, fried with risotto, or served after a delicious margarita pizza.
If seafood is not your thing, head higher into the hills and cliffs to find a heartier cuisine more typical of Italy's more mountainous regions to the north. In elevated restaurants, you can find meatier dishes like rabbit soups, steaks, and pheasant to enjoy with a glass of red wine and panoramic, breathtaking views of the Gulf of Naples.